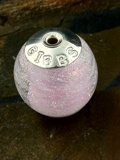 My dear friend, Elise Strauss, started making Glass Memorial Beads for those who had lost a beloved pet over six years ago, and when she and her husband set out to retire in Oregon she turned the business over to me.  I've spent the last couple months working on ideas and designs and though there was an announcement by Elise on Facebook… this is my first official announcement of this new glass endeavor.
I am so very honored that Elise asked me to take over… as I do, Elise looked at making memorial beads as a sacred honor.  Before making each bead I say a prayer and meditate on who this kitty, dog, or even human being was and what they meant to their family.  I reflect on those I've loved and lost and I consider this work a privilege and I am touched beyond words that I am entrusted with this sacred creation.
I have created a web page with the details of ordering ash beads which you can find "HERE" or above in the menu.  As with my designs, the page is going to develop over time and I will add more photos to better display the options available.  I have a lot of ideas that I've yet to try out and can hardly wait to work on.
Thank you Elise… I truly treasure this opportunity.
Deb 🙂
Welcome…

This is Deb and I'd like to welcome you to my web site. Here you will find information on my personal artistic journey, where I sell what I create, and information on the art glass world.

Thank you for visiting!
Deb
Stay Up To Date via Email